London Diary - Magnificent Obsessions: The Artist as Collector at Barbican
Magnificent Obsessions: The Artist as Collector at Barbican is a quirky exhibition, an insight into what inspires and influences the artists featured in it, their personal tastes and obsessions. It includes memorbabilia, collectibles and rare artefacts.
The exhibiton includes the following artists, a selection of objects from their collections alongside at least one key example of their work providing an insight into their inspirations, influences, motives, and obsessions.
Arman
Peter Blake
Hanne Darboven
Edmund de Waal
Damien Hirst
Howard Hodgkin
Dr Lakra
Sol LeWitt
Martin Parr
Jim Shaw
Hiroshi Sugimoto
Andy Warhol
Pae White
Martin Wong/Danh Vo
Throughout history artists have collected objects for professional and private reasons – as studio props, sources of inspiration, references for their work, personal mementos and, even, investment. Magnificent Obsessions: The Artist as Collector presents the fascinating collections of 14 post-war and contemporary artists. Their holdings range from mass-produced memorabilia and popular collectibles to one-of-a-kind curiosities, specimens, rare artefacts and works of art.

For some artists, the passion for collecting has complemented and informed their artistic interests, and for others it has hindered their ability to work. Why do artists collect? How do they live and work with their collections? What is the relationship between the objects artists collect and the works they make?

Collections have traditionally been amassed with the objective of building and transmitting knowledge. Artists too share this aim, but towards more subjective ends. Unlike museums, artists do not typically take a scholarly approach to collecting, nor do they seek to assemble comprehensive or representative collections. Reflecting personal obsessions, their acquisitions are often made in tandem with their own work and on a visual basis.

Many artists live with and make use of their collections, while others keep them under wraps or in storage. Some artists are connoisseurs, carefully shaping their collections, and others accumulate hoards of objects, never letting anything go.
This video is an overview of the exhibition, featuring some of the artists in the exhibition.
Here are some of favourites:

Hanne Darboven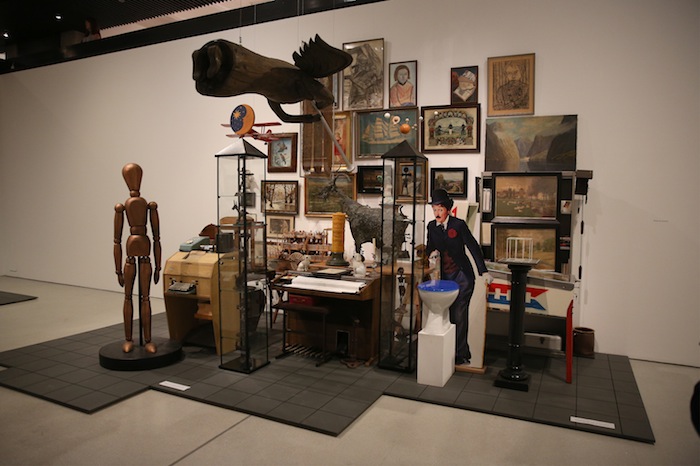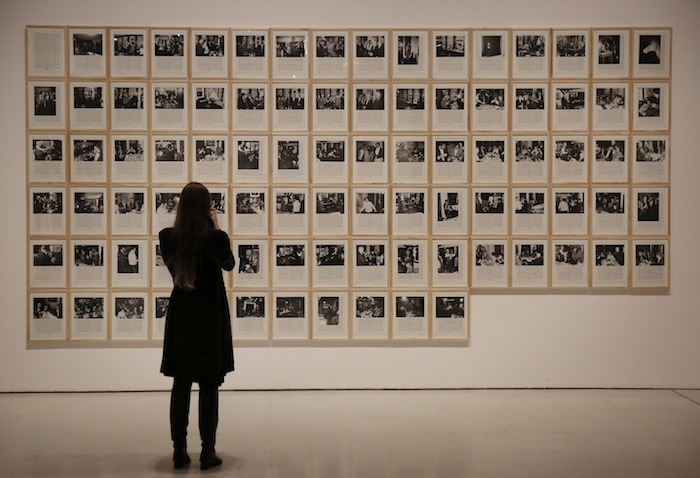 Hanne Darboven collection. Magnificent Obsessions: The Artist as Collector, Barbican Art Gallery. ©Peter MacDiarmid, Getty Images
 
HANNE DARBOVEN (1941-2009) grew up in a large house, known as Am Burgberg, in the Hamburg borough of Harburg. In 1966, she weny to live in New York, where she befriended Carle Andre, Sol LeWitt, Lawrence Weiner and other artists associated with Minimalism and Conceptual Art. During this time, Darboven introduced numerical calculations and abstract notations in her works on paper, some of which comprise hundreds of framed sheetds installed on the wall in grids. These ways of working developed into systems for calculating dates and composing music.

Darboven returned in 1968 to her family home in Harburg, where she would live, work and amass a diverse collection of objects over the next four decades, filling the rooms from floor to ceiling with artworks and postcards from friends, family possessions, sculptures, statues, musical instruments, souvenirs curiosities, trinkets and countless other objects. She had a fondness for animals, evidenced by photographs of her pet goats, sculptures of a horse and goat commissioned from local artisans, and taxidermy, as well as ceramic, wood and toy animals. The partial contents of two of her rooms are exhibited in the exhibition.

The rigid seriality of Darboven's work is often personalised by the inclusion of photographs of her environment or of individual objects form her collection. On view here, Mitarbeiter und Freunde (1990) documents a holiday party at her home attended by co-workers, friends and family including her mother, sisters and neighbours.

Dr Lakra
Born in Oaxaca, Mexico, DR LAKRA (b.1972) is an artist whose work blurs the borders of mediums, techniques and cultures. Working initially as a tattoo artist, he has since expanded his practice, producing objects, drawings and murals that have gained international recognition. Throughout his career he has developed a distinct aesthetic, a hybrid visual vocabulary distilled from a range of sources.
A regular visitor to flea markets both in Mexico and abroad, Dr Lakra has crammed his studio with old toys and dolls, bones, curiosities, books and vintage magazines. These objects feed into his work. An extensive collection of LPs provides an inexhaustible source of grotesque and macabre imagery for his drawings and tattoos. A similarly eclectic mix of images features in the scrapbooks he collects, which reflect the personal tastes and dreams of anonymous makers. Often beautifully made, these books speak to long forgotten personal narratives, rescued from the garbage heap.
Sol LeWitt
Sol le Witt's collection. Magnificent Obsessions: The Artist as Collector, Barbican Art Gallery. ©Peter MacDiarmid, Getty images
Sol LeWitt, Autobiography, 1980. LeWitt Collection, Chester, Connecticut USA © ARS, NY and DACS, London 2015.
The American artist SOL LEWITT (1928–2007), who was a key proponent of both Minimalism and Conceptual art, built an extensive collection of works by his contemporaries, including Hanne Darboven, Dan Flavin, Eva Hesse, and Robert Ryman, among many others.

Collecting was a form of dialogue with other artists, and LeWitt generously continued to purchase and trade works throughout his career, including with emerging and lesser-known artists. He collected in other areas, including scores by composers such as Steve Reich and Philip Glass. LeWitt counted these minimalist composers as friends and supported their early endeavours by purchasing their hand-written scores. He saw an affinity between his practice and theirs, which also used repetition and variation within a self-imposed system.

Artists from other periods of time were of interest to LeWitt. Nineteenth- century woodblock prints from Japan were his earliest acquisitions, made when he was serving in the US Army during the Korean War. These prints with their flattened forms, black outlines and vibrant colours appealed to LeWitt who had studied printmaking and designed posters while in the armed service. He also collected modernist photography, acquiring prints by Karl Blossfeldt, Albert Renger-Patzsch, August Sander and others.

The matter-of-fact quality of these black-and-white prints and their exploration of typology were characteristic of LeWitt's own approach to photography. In his photobook Autobiography (1980), shown here as framed prints, LeWitt documented his downtown Manhattan loft, its architectural details and his possessions in more than 1,000 images, usually nine per page, arranged in grid.
Martin Parr
Martin Parr's collections. Magnificent Obsessions: The Artist as Collector, Barbican Art Gallery. ©Peter MacDiarmid, Getty Images
Martin Parr's artwork. Magnificent Obsessions: The Artist as Collector, Barbican Art Gallery. ©Peter MacDiarmid, Getty Images
Photographer MARTIN PARR (b. 1952) is drawn to the eccentric and the odd. Time and again he has taken tourism as his subject and travelled to the world's most saturated sights. He focuses on the manic behaviours of the sightseer: the herd-like tour groups, the compulsive acquisition of photographs and souvenirs.

Parr himself is also an avid collector of kitsch souvenirs. An expansive collection centres on products with the portraits of dictators and political figures, revealing the intersection of the political and the everyday. In a related vein, a recent obsession is Soviet space dog memorabilia. Urban strays sent to space during the 1950s and 1960s, the space dogs' trajectory from the streets to the stars made them symbols of utopian progress across the USSR, although some died in orbit. Fifty years later these strange objects are left as the remnants of a distant era.

While working in a Butlin's holiday camp in the 1970s, Parr started a major collection of postcards that now spans the 20th century. Early black-and-white examples convey news stories to the receiver, of both local interest (freak hailstorms, lightning strikes) and international importance (World War 1). With the introduction of colour in the 1950s, the tourist postcard as we know it was born: "wish you were here" images that fabricate an idealised vision of international travel. Ranging from the boring to the bizarre, the exotic to the everyday, Parr's extensive collection forms a rich visual archive of modern tourism.
Andy Warhol
Andy Wharhol's cookie jars collection. Magnificent Obsessions: The Artist as Collector, Barbican Art Gallery. ©Peter MacDiarmid, Getty Images
Andy Warhol's artwork. Magnificent Obsessions: The Artist as Collector, Barbican Art Gallery. ©Peter MacDiarmid, Getty Images
A year after the death of Andy Warhol (1928-87), Sotheby's orchestrated a sale of the artist's voluminous collection in New York. There was an incredible 10,000 lots, and the auction lasted 10 days. Warhol was an obsessive collector of almost everything: he had an impressive collection of folk art, antique chairs, Art Deco furnishings, Native American artefacts, jewellery and fine art; but he also hoarded mass-produced collectibles and ephemera bought from flea markets and thrift stores.

He had little desire to impose order on his objects and was unconcerned with theor display. Once bought, they were discarded in a corner or closet in his Manhattan townhouse, often still in their bags or wrapping. He was excoted by the aqcuisition and possession of things, rather than their use or appreciation.

Warhol was the son of working-lass immigrants, and this accumulation of objects contrasted sharply with his Pittsburg childhood. His collecting compensated for an early life that had been relatively devoid of possessions, and many of his collections centred on childhood artefacts such as vintage tin toys. Other objects, including his famous cookie jars, look back to a nostalgic ideal of post-war suburban domesticity.

This attachment to the familiar and the domestic often surfaces in Warhol's own work.
Pae White
Pae White amongst her scarves collection. Magnificent Obsessions: The Artist as Collector, Barbican Art Gallery. ©Peter MacDiarmid, Getty Images
Pae White's artwork. Magnificent Obsessions: The Artist as Collector, Barbican Art Gallery. ©Peter MacDiarmid, Getty Images
Since the early 1990s, Los Angeles-based artist Pae White (b.1963) has pursued an expansive practice that embraces not only sculpture, installation and painting, but also furniture, graphics and interior design. Her work is often characterised by a playful use of unorthodox materials – the kitsch, the decorative, the everyday and the discarded all play a part in White's artistic output.

As both collector and artist, White is drawn to things that are seemingly endless in supply. Her largest collection consists of over 3,000 textiles by prolific American designer Vera Neumann (1907–93), who was prominent in the 1960s and 1970s. Known as Vera, she created an apparently infinite array of vibrantly coloured prints, produced most famously as scarves, but also as bed sheets, towels, dresses and tablecloths. Her practice was founded on the notion that art and design could and should be accessible to all, and each print originated as an artwork by the designer. To fuel this scale of production she constantly translated her environment into designs – mundane commodities, exotic landscapes, modernist abstractions and Pop colours sit side by side in her textiles.

It is this open and generous attitude towards art, design and the surrounding world that resonates with White's own work. Sharing with Vera a fondness for winged creatures, White has designed edible chandeliers made of seeds for birds and created a series of delicate cage-like forms made of colourful wires such as Cloud Clusters (2005), which in this exhibition is suspended over the double height space.
Martin Wong / Dan Vo
Martin Wong collection_Dahn Vo artwork. Magnificent Obsessions: The Artist as Collector, Barbican Art Gallery. ©Peter MacDiarmid, Getty Images
Martin Wong collection_Dahn Vo artwork. Magnificent Obsessions: The Artist as Collector, Barbican Art Gallery. ©Peter MacDiarmid, Getty Images
MARTIN WONG (1946–99), along with his mother Florence Wong Fie, amassed a trove of thousands of objects reflecting their shared appreciation of East Asian art and culture, Americana and kitsch. Wong's mother nurtured his childhood interest in art and in collecting by taking him to Asian antique and gift shops in San Francisco. After studying ceramics at Humboldt State University in northern California, Wong left for New York in 1978 to pursue painting.

In New York, Wong continued acquiring from Chinatown gift shops as well as from artists and dealers. He often traded or sold items from his collection to acquire more valuable pieces, and his mother in turn added to the collection, the vast majority of which was stored for safekeeping in her San Francisco home. Many objects from this collection served as props for his visionary, realist paintings. Wong died of AIDS-related complications in 1999.

After the artist DANH VO (b.1975) purchased a work by Wong, he visited Florence in San Francisco and saw the collection in situ. Vo attempted to find a museum to permanently house the trove of nearly 4,000 objects. It was only after Vo acquired the collection and presented it with a selection of Wong's paintings as a work titled I M U U R 2 (2013) at the Guggenheim Museum in New York that an institution, the Walker Art Center in Minneapolis, decided to purchase it as an artwork by Vo.

Magnificent Obsessions: The Artist as Collector is on till Monday, 25th May 2015.
www.barbican.org.uk/artgallery/event-detail.asp?ID=17071
[images via www.barbican.org.uk]