Failed Architecture Workshop about Bank Street in Sharjah
I recently attended a four day workshop run by Amsterdam based research platform (and brilliantly named) Failed Architecture on Sharjah's iconic Bank Street (referred to as Hisn Avenue on Google Map). The workshop took place in Maraya Art Centre, who invited Failed Architecture to,
...examine the historical development, the current situation and possible futures of a series of exceptional buildings from the 1970s on Sharjah's centrally located Bank Street. These buildings are architectural highlights of their time, but will probably soon be replaced with a low-rise 'historical' quarter.'
During the four days of the workshop, we explored and researched Bank Street through talks and presentations from guest speakers, research and site visits. I was completely immersed in this for four days and it reinvigorated me from a creative slump I was feeling for the past month. I really enjoyed it and personally found it very rewarding. There were a lot of findings and a lot of questions, some still unanswered which I am hoping to explore over the next few months.

Here's an overview of the workshop.

Bank Street
We spent a lot of time walking on and around Bank Street to explore it in more details, to get a sense of the place and its inhabitants. We were lucky to get access to one of the rooftop, which gave us a great overview of the street and its surroundings. I preferred one side of the buildings, the ones with the smoother looking surface, you will see in the following photos.

In the late 1970s, 17 blocks of buildings were constructed on what we refer to as Bank Street. This was during the construction boom that took place after the discovery of oil in the late 1960s/early 1970s. These buildings replaced the old houses in the heart of Sharjah that was a fishing and trading hub. The modernist architecture added a bit of prestige to the area which was soon inhabited with a new wave of upper class expatriates, and the Emiratis who populated the area moved on to the newly developed suburbs in newer and bigger homes.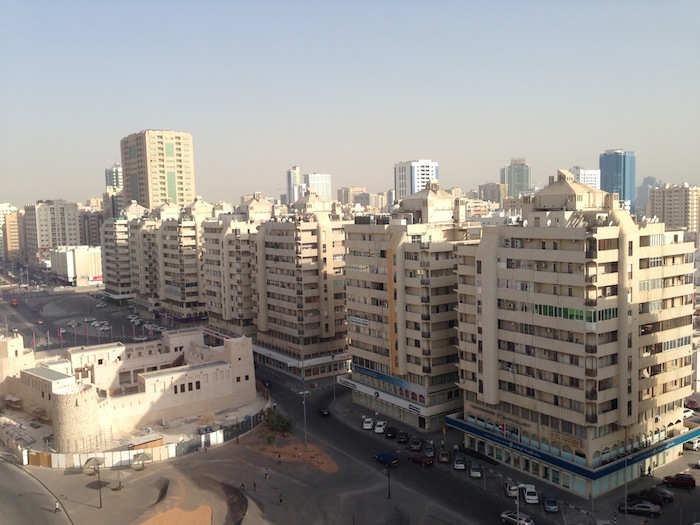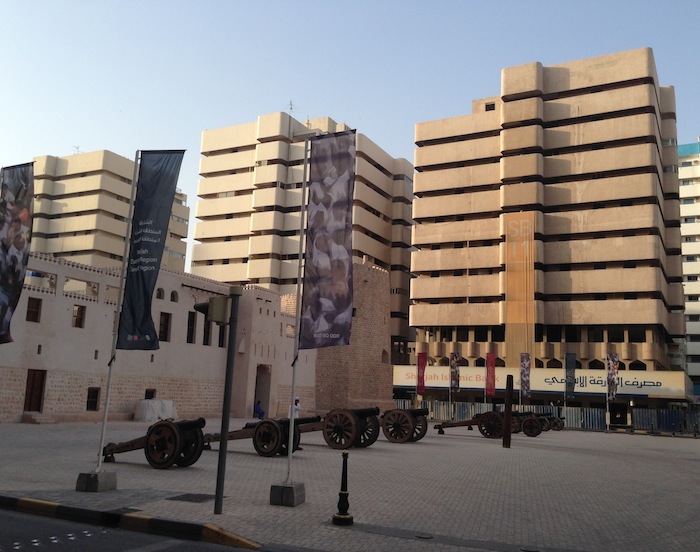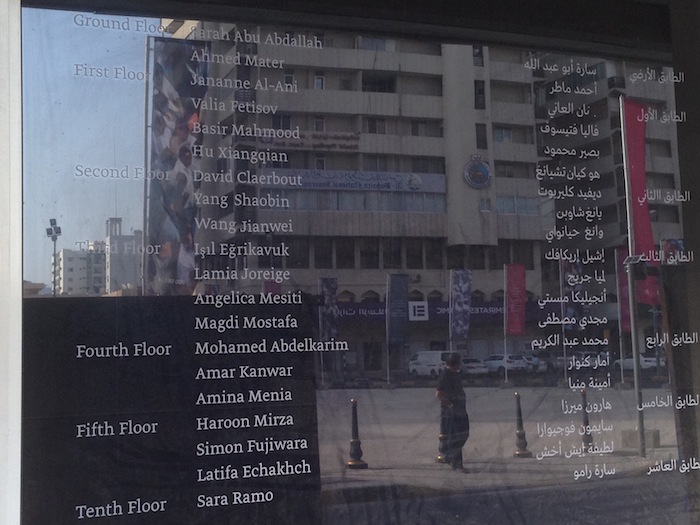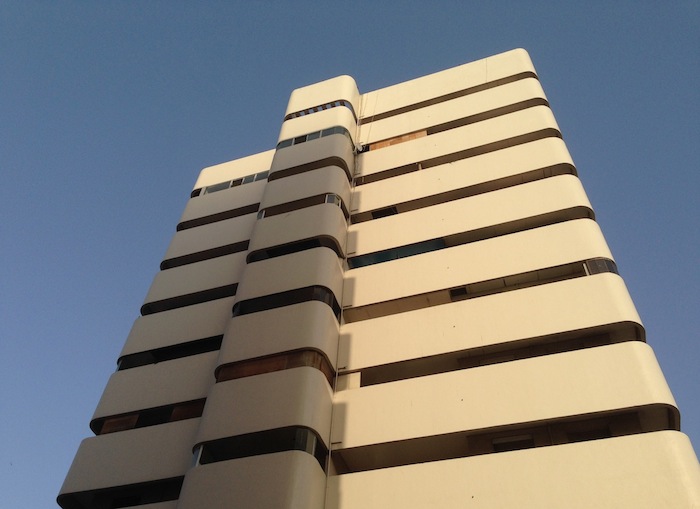 Heritage Area
The Heritage Area (behind one side of Bank Street) is a mixed bag of reconstructed historical looking homes (which looks like something out of a stage set) and the restoration of some of the remaining original old buildings/homes. The area is also home to the Sharjah Art Foundation and Sharjah Art Spaces, which opened last year, and my favourite spot in Sharjah.
We got to hear about the plans for the new "Heart of Sharjah" which involves the demolition of the two blocks of buildings on Bank Street to make way for a recreation of the old heart of Sharjah (or as I like to call it, the new old heart of Sharjah) following the blue print of the heart of Sharjah from the 1950s.
This will include reconstructing the historical looking homes to make the area a new tourist, leisure and business destination. The aim is to also bring back some of the original families that lived here before they moved out in the 1970s. This is a long term development expected to be completed in 2025, the first phase is already in progress.
As I see in Dubai, there seems to be a fixation on heritage and history from the pre-oil days. As if anything that got built after doesn't matter which explains the ease in wanting to demolish the modernist architecture on Bank Street.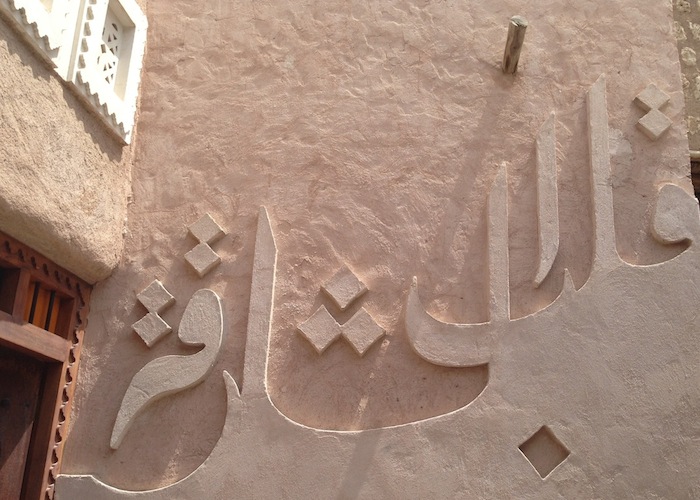 Presenters at the workshop
We had some very good speakers invited to present at the workshop. My two favorite talks were by Sultan Al Qassemi who shared some very good cultural, social and political insights into Sharjah and discussed some of his favourite modernist architecture across the UAE, most notably, the Dubai Petroleum's headquarters which he wrote about in 2009 where he proposed if the building ever gets vacated, it should be turned into a museum.

When we asked him what he thought of the new Heart of Sharjah development, he pointed out that the Emiratis will "identify with it historically, but not culturally". This line stayed with me ever since, because during the workshop, I started wondering why is the recent history, i.e. from 1970s onwards that most of the current population has lived through and experienced is overlooked. And at what stage will this recent history become relevant and will need protecting.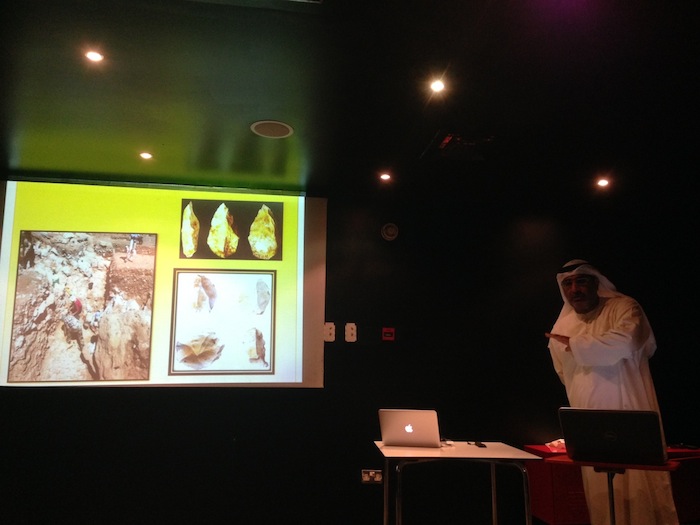 My second favourite presentation was by Mona El Mousfy, Professor of Architecture, College of Architecture, Art and Design (American University of Sharjah) and Sharmeen Syed, Architect and Researcher (Sharjah Art Foundation), both women were part of the design team that worked on the Sharjah Art Spaces that opened last year. They both gave us a historical look from an architectural point of view of the heart of Sharjah and towards the end, Mona El Mousfy questioned where is the nostalgia for the pre-oil days coming from. Again, I linked this to the point made by Sultan about historical relevance versus cultural relevance. As I said at the beginning of this post, this workshop has left me with lots of unanswered questions that I want to explore.
Some of the other presenters included Mr. Eissa Abbas, an archeologist from the Sharjah Heritage Department who talked about the Mleiha Fort (50 km east of Sharjah), the only known settlement in the area that dates back to 300 BC. This was a surprise presentation for me, and although it didn't really relate to the Heart of Sharjah, it was very fascinating and made me want to plan a road trip to see site for myself.
The presentation by George Katodrytis, Professor of Architecture, Art and Design (American University of Sharjah) was about "Performative Urbanism" and my highlight from this was when he described the plans for the new Heart of Sharjah as very scripted and compared it to Madinat Jumeirah in Dubai which is also supposed to represent old Dubai.
 
Timeline
The objective of the workshop was to work on a timeline following Failed Architecture's methodology which included all the information we gathered during the four days and to present it into five categories: built environment, politics, economy, social context and reputation.
We completed the timeline on the last day. It looks like this and will remain up on the wall at Maraya Art Centre till 15th May 2014.
Sadly, after a lovely walk around the Sharjah Art Spaces, it was time to say goodbye to Mark Minkjan, Michiel van Iersel, René Boer from Failed Architecture. We ended up parting ways in front of this billboard sign outside the Sharjah Art Spaces area. The line "very special art centre" made us chuckle and in a way summed up my experience over the four days of the workshop.
You can read Failed Architecture's report of the workshop here. If there's a Failed Architecture workshop coming to your city, do not even think twice about attending, you must sign up right away. I promise it will be worthwhile.
Although the workshop ended in Sharjah, we're hoping to carry on doing some more work as we'd all like to print a publication that will include our findings and hopefully some essays and interviews. So watch this space.

www.failedarchitecture.com
www.maraya.ae
All photos © Hind Mezaina.